Radon Map of West Virginia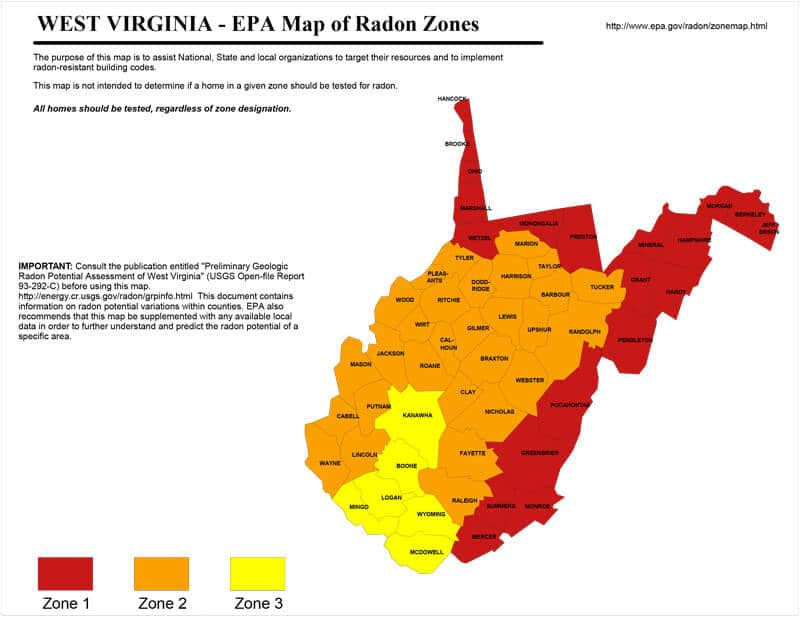 As you can see, the east and northern borders of the state are at the most risk, and the center of the state is still at a moderate risk. The southern tip is at only some risk. The EPA recommends that all homeowners in West Virginia have radon testing and possibly radon mitigation completed, regardless of where you fall on the map. We serve the following counties in West Virginia:
Barbour
Berkeley
Brooke
Doddridge
Grant
Hampshire
Hancock
Hardy
Harrison
Jefferson
Lewis
Marion
Marshall
Mineral
Monongalia
Morgan
Ohio
Pendleton
Preston
Randolph
Taylor
Tucker
Tyler
Upshur
Wetzel
Average rating for Radon Detection and Control is 5 stars of 5 stars – based on 11 reviews
Radon Testing and Removal in Pittsburgh, PA
Radon Detection & Control has been very professional with their services. I have felt well informed since my first phone call, and the process has been much faster than I expected.
Walter R. - Pittsburgh, PA 15235
Vapor Intrusion Ventilation in Pittsburgh, PA
Ideal Properties - Pittsburgh, PA 15238