Residential Services – Real Estate Professionals
Radon Detection & Control has worked for 30 years to earn the trust and confidence of the Real Estate Professionals in Western Pennsylvania and Northern West Virginia. If you have not worked with Radon Detection & Control, check with your colleagues, chances are they have. Radon Detection & Control understands the intricacies, disclosures and timelines that are so critical to the Real Estate Transaction. We can advise, counsel, and work with buyers and sellers to assure a smooth process and outcome even in difficult circumstances. Our experience can put all parties' minds at ease.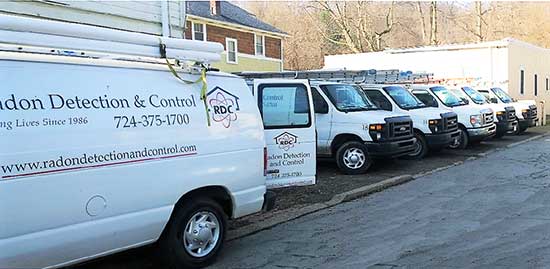 Real Estate Professionals, Here's what makes Radon Detection & Control Superior!!!
Pennsylvania's largest Radon Mitigation Company
Serving the Pennsylvania and Northern West Virginia Area since 1986
Tens of thousands of Homes Successfully Mitigated
School, Office and Large Project Installations (Specification Preparation, Installation, Inspection)
Fully Guaranteed
Lifetime Transferable Warranty
Fully Insured: Workman's Compensation, Professional Liability, Errors and Omissions, and Pollution
Energy Efficient Ventilation Fans
Every Day Low Prices, RDC uses power buying to provide the highest quality radon systems at low cost.
Payment by checks, credit cards or low to no interest installments (payment, in most cases, can be at closing)
Continuous Testing Program verifies system is providing continued radon reduction (Complies with State Regulations)
Highly trained, skilled, experienced, State listed, Craftsmen on site (no part-timers or subcontractors) Full Office Support Professional knowledgeable office staff will talk to you 9:00 am – 5:00 pm (M-F), to help you every step of the way (documents, Fax, e-mail) Voicemail or email during off hours
Knowledgeable Technical Team (readily available to answer questions and provide technical assistance)
What Radon Detection and Control won't give you.
Up charges for rework, i.e. bigger or additional fans.
Penalty charges for payments other than same day.
Bait and switch or craftily worded contracts
Unsightly, inadequate, or prohibited installations.
Installers that are casual laborers, part-timers, subcontractors.
PVC exterior sewer and drain pipe on exterior to above roofline
Uninsured or Underinsured Operations
Answering machines and voicemail during business hours.
Inexperienced technical support